Techware
Apr 04

No doubt this will be one of the best phone of 2012.

Check back soon to read my own review of HTC One X 
Apple to be the 1st trillion-dollar company by 2014

Apple is on its way to becoming the world's first company to be worth over a trillion dollars, expects analyst Gene Munster from Piper Jaffray. The firm sees Apple shares reaching the $1,000 mark in the quite near future – by 2014 to be specific.
Munster believes the huge success will be driven by the strong iPhone sales. According to him, at least 70% of all people who owned an iPhone for two years will choose to renew their iPhone ownership.
The analyst expects Apple to sell 33 million iPhones in this quarter, 10% more than his previous prediction, which should be an indication that Apple is heading in the right direction.
Source Link:http://www.appleinsider.com/articles/12/04/03/apple_expected_to_become_the_worlds_first_trillion_dollar_company_by_2014.html
Mar 21
Angry Birds Space releases tommorrow
Rovio's space themed Angry Birds Space marks the first real departure from their usual bird flinging action. I mean it's still bird flinging, but this time it's in space, which means the gravitational force in action here is a little different from the one you experience on Earth. 
After a ton of promotion, including by NASA, the game is finally set to launch tomorrow, on March 22 on iOS, Android, Windows and Mac.Angry Birds Space gives you six birds to play with. Now most of these birds are the same; they just look cooler. There's your usual red bird, who still looks as useless as ever, the awesome black bird that explodes, the yellow one who increases his speed when you tap the screen (except he's now purple and looks like Cyclops from X-Men), the blue bird that splits into three and the big red one who is green in this game. There is just one new bird, who turns stone structures into ice, which probably makes them easier to break by other birds. Other birds from older games, such as the white, green and the orange one aren't present in this game, which is fine because they are mostly useless.
Mar 17
cnet:
With a host of improvements—faster graphics, 4G wireless options, a better camera, and a gorgeous high-res screen—the latest iPad cements its position at the head of the tablet pack.
Mar 16
Android Based Digicam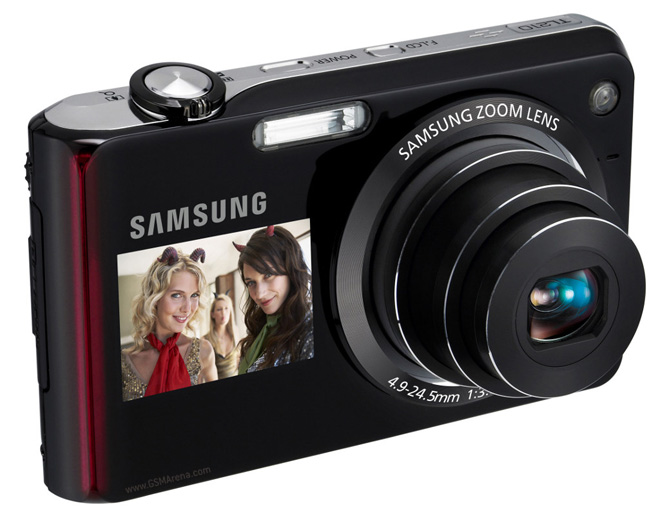 This Might be the 1st one of its kind. Samsung is considering an open operating system for their cameras & when it comes to 'open', the 1st thing that comes to mind is android. Samsung can also consider their two open OSes(tizen & bada) but practically speaking Android makes more sense right now  One of the main reasons for having it is the vast collection of third party apps. Other then that the sharing of pictures may even get better.  However, Samsung is merely considering as an option to explore but if it comes out it will really be a more useful thing then a typical digicam.  Lets hope to hear a good news soon.
Mar 15
The 1st device of its kind powered by a quad core chipset(Nvidia Tegra 3) along with some amazing & unique features like 'Image Sense' & Dual shutter camera.
Now thats what I call a perfect computer lab 
(Source: holytoledobatman, via thenextweb)
Sense 3.6 preview
 
Since the latest version of Android meant considerable changes to OS' design as well as endless list of new features, bug fixes & other improvements—-the lengthy wait has left us only able to predict about the tweakings HTC will make to its own adaption of Android's user interface named Sense. Sense 3.6 has is the option for whichever HTC flagships which are lucky enough to be on the upgrade list while Sense 4.0(preview coming soon) is the choice for One lineup. Even though both run Android 4.0, the two builds look drastically different. Lets uncover the mysteries with a preview of Sense 3.6

Both the iteration of the Sense were developed in parallel to each other but both of them stand in total opposition to each other. Sense 4.0 is a lighter & simple while Sense 3.6 is just like the old Sense 3.0

HOME SCREEN 
The clock & weather widget, a staple on HTC device dating back to windows Mobile hasn't gone anywhere in sense 3.6. The dock at the bottom of the screen has been completely changed.The menu button is now placed in the middle surrounded by upto two shortcuts on either side. The shortcuts are completely customizable here. Additionally folders can be used as an option.

HTC keeps the ICS multitasking setup, easily accessible by long pressing the home button. The task killer is also available here

Fortunately, panels can be added & deleted here which was't possible on sense 3.0 lastly long pressing any panel offers the usual Sense personalisation options.

Notification menu

Notification menu still has dual tab at the bottom with notifications on left & quick settings on right. The quick setting tab offers usual WiFi, Bluetooth, Airplane mode & Mobile Network toggles. The notifications can now be cleared by swipe & also the notification menu can be accessed from lock screen, thanx to the new Android 4.0 
 
Lockscreen
The Lockscreen has nothing new to offer here, the same old ring at the bottom along with four customisable shortcuts. HTC has retained the face unlock functionality & the shortcuts are now swappable unlike the sense 3.5

Capacitive buttons

ICS aims to rid any physical or capacitive buttons by adding three virtual ones at the bottom of the display. Obviously it doesn't goes with previous HTC flagships & thankfully they have blessed its devices keys with exactly the same functionality as before.

App Drawer 

Its same old story here as well, you still swipe up & down through the grid instead of left & right. The three tabs(all apps,frequent & downloaded) are still present at the bottom although they are spaced evenly across the width of the screen which really looks better. 

Phone 


Overall its the same thing but there are some minor changes. Four tabs(phone,people,groups,call history) are placed at the bottom. Minor tweakings have been done here to give it an ICS design

Browser

Sense 3.6 offers a slight design tweak to HTC's default browser. Now you can find a dedicated back button on top left. The whole thing resembles the ICS design. A new toggle( view  desktop site) has been added here. HTC has knocked out the ring style of navigation menu of the stock ICS which was pretty good. Chrome is indeed available here so you can surely give it a try. 
Conclusion
The Sense UI performs better with ICS mix. However the user experience has changed a little, personally even I don't like some of the new features but still its the best dress up for Android.
Mar 14
List of HTC Devices getting ICS
Many of the HTC Customers out there will be happy to hear that HTC will be rolling out ICS to dozen of its flagships.All this devices are said to receive ICS in Q2 or later part of the year 2012.

Source Link: http://blog.htc.com/2012/03/ics/ 
Mar 13
[video]